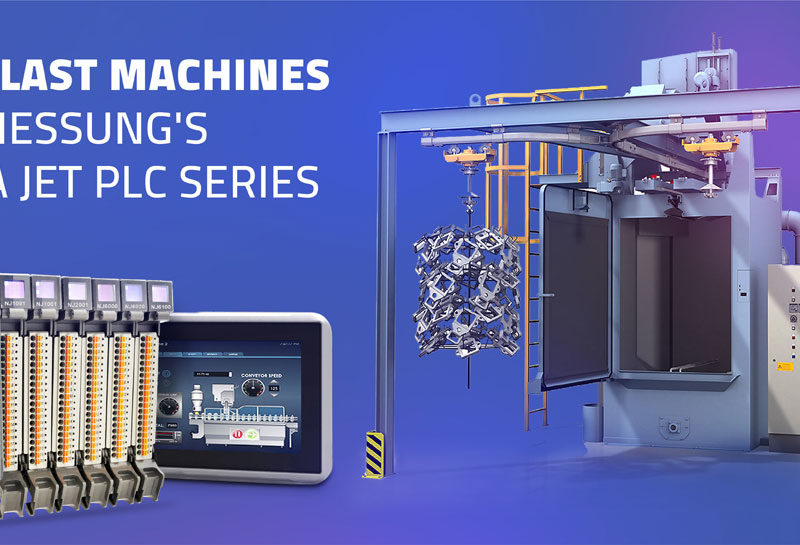 A Shot blasting machine is an enclosed equipment designed for abrasive blasting for cleaning and preparing metal, stone and other surfaces. It is a machine for shot peening, cleaning metal parts such as forging, casting parts, steel surfaces, heavy metal structures, rusted metal parts, etc.
Moreover, this is a machine that controls the flow or stream of fine metal beads as they are forcibly projected against a surface by mechanical acceleration.
APPLICATIONS OF SHOT BLAST MACHINES:
Shot Blasting Machines have a wide range of applications &uses in Automobile, Foundry, Manufacturing and Metal Industry, Shipping Industry and Bearing Industry.
AUTOMOBILE
Smaller car parts such as bell housings and stabilizing bars are also often produced using sand-moulds, meaning shot-blasting can be used to clear off the surfaces for further processing. Being able to utilize these processes allows the automotive industry to use lighter metals in order to produce more fuel-efficient cars. Shot-blasting can also be used on the car's exterior for clearing it of rust. Shot-blasting a surface also helps prepare it to be painted and will help a surface maintain its paint job longer.
FOUNDRY
In foundry factories, castings need to be polished and shot blasting machine is the best suitable machine for this job. Shot-blasting is best utilized in foundry during post-production. After metal castings have left their sand moulds and are processed, they still must be stripped of remaining moulding sand that is stuck to the surface before they can be further processed. Removing this sand can be difficult, especially with castings that are small or more intricate. Shot-blasting can be an effective way to remove this surface sand from many small metal castings at once.
MANUFACTURING AND METAL INDUSTRY
If a manufacturer uses metal in any part of their production, or if metal is their main production, then shot-blasting can be incorporated into its operations. It can be used to remove corrosion and rust before metal is processed, or it can be used at the end of the production to give the metal a perfect finish. As mentioned earlier, shot-blasting a surface will also help the processing of painting the surface.
THE CUSTOMER
Our customer is an ORIGINAL EQUIPMENT MANUFACTURING Company that offers high quality shot blasting project services. They are manufacturers of Shot Blasting Machines, Shot Peening Machines and Spares, Foundry Equipment, etc. and are committed to providing the highest level of service and expertise, producing superior results to their clients.
PROMINENT FEATURES OF THE SHOT BLAST MACHINE
Durability
Excellent finish
Exceptional performance
Long service lives
Accurate dimensions
Sound designs
THE SOLUTION
Messung engineers studied the machine and its requirements, and came up with a solution consisting of
All Shot Blast Stations are equipped with Shot flow control Valve or Magna Valve for regulating the shots flow rate to the Blast Unit.
A Reverse Pulse Jet dust collector with the pleated cartridge is provided for continuous dust extraction from the blast cabinet. The function of Dust Collector is to keep the Blasting Cabinet adequately vented and also remove dust particles and small size of shots from Abrasive.
The operation of the entire machine is sequentially programmed by PLC mounted in a Control Panel. The PLC shows the working status of the machine, number of hours machine run for maintenance necessary, and various trouble shooting requirements. The PLC Program is designed to suit the customer's requirements.
THE HEART OF THE SYSTEM: NX-ERA JET PLC SYSTEM
NX-ERA Jet modules offer the best cost-effective solution combination of input and output modules for large and distributed systems as well as medium to small sized applications. Jet can be also combined with the main products of the series, such as CPUs, backplane racks, communication and fieldbus modules.
NX-ERA Jet Powerful Features
NX-ERA Jet has all the important features of the popular NX-ERA Series. It turns into a selection of input and output modules where requirements such as hot swapping and advanced functionalities such as OTD (One Touch Diag) and EPS (Easy Plug System) are no longer necessary. The result is a group of compact and economical modules capable of providing highly competitive solutions, with no loss of electrical characteristics such as isolation, performance and accuracy.
BENEFITS FOR THE CUSTOMER
Automatic and continuous operation.
Simple maintenance. The machine body hasa simple structure, which can reduce the vulnerability of consumption, save maintenance time and cost.
NX-ERA JET products have been in constant improvement and receiving new functionalities.
Its remarkable features, such as flexible architecture, rugged structure and higher performance, helped to consolidate the line as a trustworthy and cost-effective solution for many kinds of demands. 
With extremely fast response time, close to 4 ms per cycle, NX3003 stands out as the solution with best performance for the machine market – with 14 digital inputs and 10 transistor outputs, including 4 fast inputs for encoder reading (unidirectional, bidirectional and quadrature) and 4 fast outputs for stepper motors (PTO/PWM).
The CPU is capable of performing in architectures for blowers, wrapping machines, baggers, slicing machines, injectors, squeezers, and many other models.
Programming and configuration environment based on IEC 61131-3 standard: the global standard in programming languages for programmable controllers
THE OUTCOME:
The machine control system is of PLC&HMI based with mimics developed on the HMI.
The system has different user levels defined with different privileges.
The system is able to execute the sequence of operation in auto mode.
Sequencing/ Re sequencing of the motors shall be possible in the auto/ user defined mode with time duration of operation.
It generates batch-wise or date wise reports for the duration of the machine's operation.
The system has provision of saving these reports for a period of 30 days and can take backup of the data via serial interface.
Messung, leading PLC manufacturer in India, offers a range of automation system components such as PLCs, HMIs, Remote I/Os, etc. and also develops customised yet cost-effective industrial automation solutions tailored for specific applications. Since its inception in 1981, Messung has partnered with Indian industry to enable automation and control of industrial machines and processes –for profitable business outcomes.
Messung's canvas of industrial automation solutions spans Process Automation, Servo & Motion Control Automation, and General Purpose Automation. Through strategic partnerships and their own 'Make in India' R&D, Messung provides solutions that have proven themselves across the gamut of industries with their flexibility, efficiency and long service life.