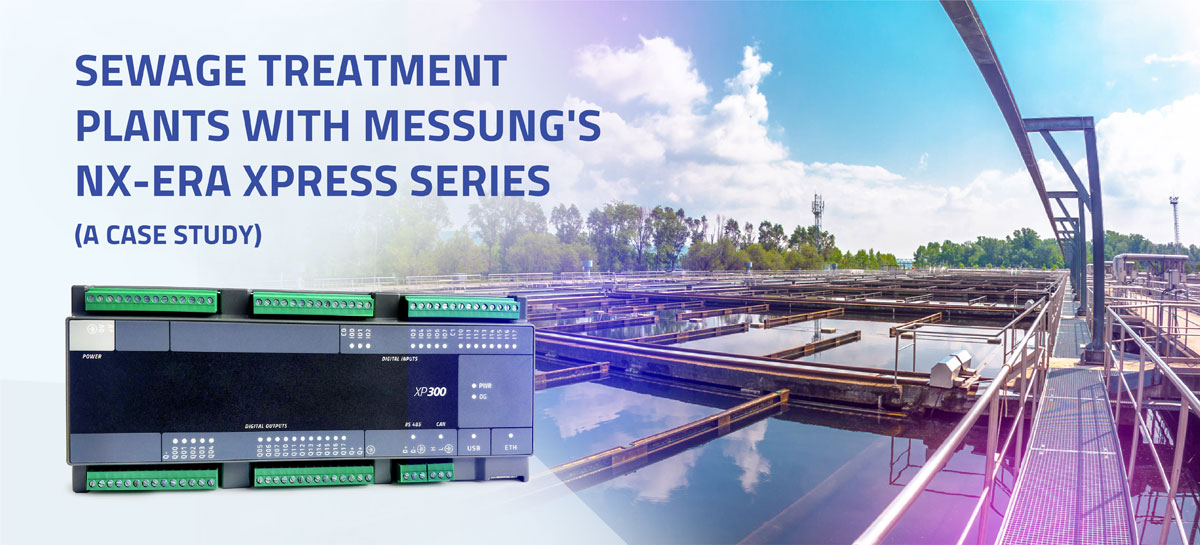 Sewage is the waste generated from residential, institutional, commercial and industrial establishments. Due to the hazardous impacts of municipal, industrial and hospital wastewater on water, soil, air and agricultural products, wastewater treatment and the proper disposal of the sludge produced are indispensable from an environmental safety point of view.
Moreover, due to the global water shortage crisis, water from wastewater treatment needs to be reused increasingly in the near future. Reuse of sewage is the most sustainable and long-term solution to the problem of water scarcity.
Sewage Treatment Plants (STP) treat the sewage and waste water to produce a cleaner, more environmentally friendly effluent that is safe for disposal, gardening/agricultural use or domestic use in toilets, etc.
Physical, chemical, and biological processes are used to remove contaminants and produce treated wastewater (or treated effluent) that is safer for discharge into the environment or for reuse.
APPLICATIONS WHERE SEWAGE TREATMENT PLANTS ARE USED
A great example of STP is the treatment plant you find in big cities. Residential households, commercial buildings, municipal wastewater, etc. also use STPs to treat their waste water and sewage. In fact, STPs are mandated by government and municipal authorities.
Pharmaceutical Industries (API & Formulation)
Chemical Manufacturing
Textile Industry
Food & Beverages
Dairy & Milk Products
Sugar & Distillery
General Engineering 
Dye & Intermediate Industry
Vegetable Oil Processing
Plastic Processing Industry
Paper & Pulp
Tannery
Oil Refinery & Petrol Chemical Industry
Fertilizer Industry
DOMESTIC & COMMERCIAL APPLICATIONS
Hotels
Hospitals
Residential & Office Complexes
Malls
Educational Institutions
Our customer is a one-stop solution provider in industrial water treatment plants. They deliver complete water treatment solutions through a rational blend of technology & human capital. They not only manufacture industrial water treatment plants but also supply water treatment chemicals / spares. This company is a growing enterprise as a manufacturer of water treatment plants and supplier of water treatment chemicals providing all the services associated with it.
KEY FEATURES OF THE SEWAGE TREATMENT PLANTS
Rids potential diseases. Wastewater treatment systems eliminate disease-causing bacteria and kills harmful organisms
Minimal odour emissions
No water bills
Little maintenance
Break down solids faster
Less wasteful
Low-cost for the entire process
Messung engineers studied the process and its requirements, and came up with a solution consisting of
NX-ERA XPRESS XP300 PLC controller
XMPRO REMOTE CANOPEN IO Modules
7 inches HMI
The proposed automation solution for Sewage treatment plant involves the use of a series of small control systems that run the facility ;a PLC (Programmable Logic Controller) to continuously monitor the operation of pumps, closures and other devices, collect and execute commands coming from the higher levels. Programmable controllers (PLC) are used to control various processes based on the data and the built-in algorithm.
According to the given specifications, a control panel was created in a suitable HMI for the control and monitoring of waste water treatment, which requires communication between the HMI application and local PLC controller.
A program that provides the appropriate behaviour of the valve, placed at the entrance and the control of the pumps was written in a ladder diagram. The alarm and monitoring system is of the highest importance.
THE BRAIN OF THE SYSTEM: NX-ERA XPRESS
NX-ERA Xpress brings you world-class technology at a cost-effective price – for entry-level applications. Packed with advanced features, NX-ERA Xpress micro PLC delivers high-speed processing power in a compact design with embedded I/O. The micro PLC system can be easily expanded through CANopen using the Remote I/O Modules – a great advantage for OEMs with needs of small, scalable applications.
Messung, leading micro PLC manufacturer has developed this powerful mini PLC (Programmable Logic Controller) with a host of special features:
High density I/O both Digital & Analog
Programming by Codesys® – IEC 61131 based software
Ethernet Port – TCP/IP, Modbus TCP/IP
Inbuilt Webserver
Industry 4.0 ready – OPC-UA, MQTT features
RS-485 port with Modbus RTU Master protocol
CANopen Master/Slave protocol
SCADA and HMI interfaces available
Built in HTML web server
BENEFITS FOR THE CUSTOMER
Conformal Coating: ensures integrity even in harsh environments
Programming and configuration environment based on IEC 61131-3 standard: the global standard in programming languages for programmable controllers
Enhanced item quality
Increase in reliability
Eco-friendly operation
Increase in profitability
Decrease in downtime, maintenance and operation costs
Utilization of labour in other sectors where automation is not feasible
Accurate data/information can be obtained, real time operation and better process control
Compared with the traditional manual control sewage treatment plant, there are several advantages in applying PLC to the sewage treatment.
The workload of the operator is greatly reduced and the labour intensity is lessened
Using the computer to process the data and make the chart makes the sewage treatment more scientific in management
The use of PLC system for the rational use of energy and equipment reduces energy consumption, and achieves obvious economic benefits
The PLC system and adoption of high and new technology in the process, equipment and management, has greatly promoted the scientific progress of the industry, creating obvious social and economic benefits. 
Messung's NX-ERA Xpress compact PLC has been successfully used in a variety of applications. Some of these include Continuous Furnace, Pressure Testing, Dust Analyser, Bandsaw, Hydraulic Press, Boiler automation, AHU, milling machine and many more.
To find out if NX-ERA Xpress is right for your application, contact Messung. Messung offers a full range of programmable logic controllers, and the full set of automation system components such as HMIs, Remote I/Os, etc. Messung can help develop customised yet cost-effective industrial automation solutions tailored for your specific application. As leading Top PLC manufacturer in India, Messung Industrial Automation & Control division also offers the latest SCADA applications, VFD drives and servo drives.