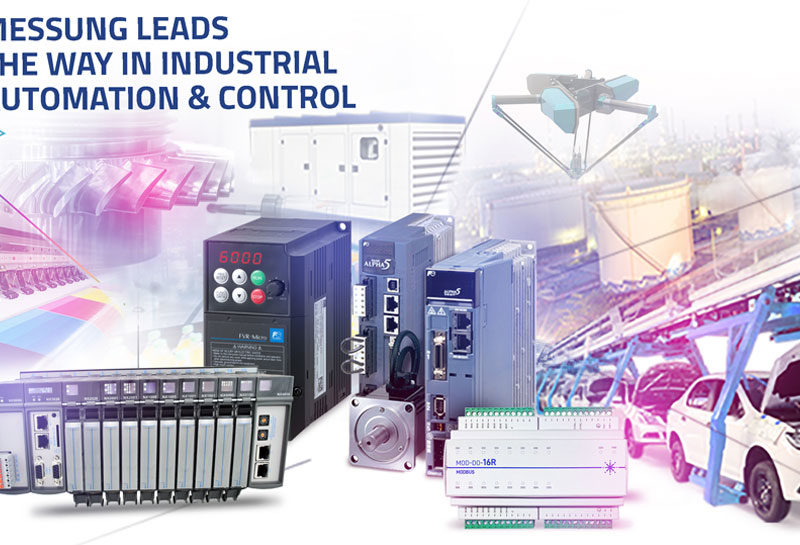 Messung Group is an organisation on a mission: to take India at par with the world's best in industrial excellence. Messung works closely with businesses and users, understands their needs and challenges; identifying opportunities and technologies to bring the most relevant solutions that contribute to their customers' success.
PIONEERING START
In 1981, Messung was born, and by 1983, had launched India's first indigenous PLC – Meprolog-H. From that pioneering start, Messung grew to become a market leader in industrial automation, continuously adding to their ever-expanding portfolio of factory automation & control solutions in India. These sophisticated products helped Indian industry offer increasingly complex machine tools and processes to compete with international brands for features, while retaining the product and services costs at a justifiable price point.
MESSUNG INDUSTRIAL AUTOMATION & CONTROL
Messung develops advanced industrial automation & control solutions in India, capable of controlling, in a distributed and redundant way, complex industrial processes, machines and high-performance production lines.
Their portfolio of essential components, intelligent devices and integrated systems facilitate well-informed decision-making and efficient controls.
Messung's smart factory automation & control solutions in Indiacover a gamut of applications in:
PROCESS AUTOMATION
Messung offers high-end process automation & control solutions in India to help process industries meet their quality and productivity challenges. Messung partners throughout the complete life cycle of your plant, and customizes process automation solutions that meet the highest technical demands for speed, quality, operational reliability, system availability and more – in diverse process industries.
Oil & Gas: Messung's Oil & Gas industry processes automation & control solutions contribute towards building a strong infrastructure for safe and efficient operations from source to consumer.
They automate and modernise the most complex oil & gas exploration and production including the subsystems that compose the oil rigs. Messung also automates electric systems for refineries, and offer a wide range of products and services for systems integration.
Sugar: Messung technology ensures precision and optimisation through the different stages of the demanding sugar production process: washing, preparation, milling, processing, sieving, purification, PH correction, pasteurisation, sugar manufacturing, transportation, loading, etc.
Pulp & Paper: For the main processes of the Paper & Pulp industry, such as chip production, baking, depuration, delignification, bleaching, drying, packaging, etc., Messung offers the most advanced control & operation solutions for optimising business performance. Messung's integrated solutions enhance speed and productivity, deliver energy savings and maximise your automation investment.
Water & Sewage Treatment: Messung builds sustainability and expandability into their integrated automation solutions for plant engineering and plant lifecycle management while ensuring you meet regulatory compliance with efficiency. Extremely accurate data collection, secure communication and integrated control make operations more agile and productive.
Energy Management/Power: Across Generation, Transmission and Distribution of power, Messung creates innovative, integrated automation solutions that score high on operations productivity, availability and safety.
SERVO & MOTION CONTROL AUTOMATION
Messung offers a range of automation technologies to help bring greater control and higher productivity to the factory floor. They deliver fully integrated, future-proof solutions incorporating Messung's own Nx-ERA programmable logic controllers; motion control systems and drive products from Sigmatek, Austria and Fuji Electric, Japan; HMIs and much more – to bring flexibility, consistency and long-term availability for factory automation. Some of the industries served include:
Robotics & Handling Systems: Modularly constructed machine and system designed concepts – equipped with an automation system that is modular in design – provide the flexibility, speed and cost-efficiency required for designing Handling Systems, Assembly Machines and Robots.
Plastic Technology: Whether for Hydraulic, Hybrid or fully Electrical machines (vertical and horizontal), Blow Forming machines, one and two Auger Extruders or complex multi-component systems – Messung provides a tailor-made and economical solution with long-term availability of components.
Packaging & Food: High-performance, flexible automation is crucial in the Food & Packaging industry. Thanks to the open system architecture, you can easily include production and packaging systems equipped with Messung's automation systems in production lines.
Printing & Paper: In printing machines and equipment used for paper processing, Messung's modular automation systems with scalable hardware and software, significantly increase the flexibility and productivity of your machines while reducing idle times as well as paper wastage.
Textile Machinery: Whether Weaving, Knitting, Embroidery or Finishing – Messung's system toolkit consists of high-performance single or multi-CPU solutions, fast and super compact I/Os including Safety.
Machine Tools for Cutting & Forming: Messung provides complete solutions for the diverse tasks in metal machine manufacturing:Metal presses, Bending machines, Coil processing, Cutting and Grinding machines, Folding machines or Punching and Welding machines, etc.
Energy: Messung provides highly modern control technology for the generation, distribution and conversion of alternative energy.The high-performance system enables the control and networking of distributed, decentralized energy generation and conversion systems, including efficient energy management.
GENERAL PURPOSE AUTOMATION
Messung harnesses its decades of experience in industrial automation to custom design and manufacture General Purpose Automation solutions for varied equipment in diverse application areas. Messung's cutting-edge technology enables high-performance, flexible machines that are information-enabled, and easy to integrate. With real-timed diagnostics and maximised control, Messung's solutions optimise safety, speed, productivity and efficiencies – for the competitive edge.
Based on its extensive know-how in automation and sector-specific experience, Messung delivers tailor-made, cost-effective solutions for:
Utility Applications
Material Handling
Machineries of general usage
CONCLUSION
When it comes to industrial automation, Messung's capabilities are hard to match. With decades of industry experience, innovative R&D and the most relevant mix of advanced hardware and software, Messung brings smart manufacturing to life.
The range of components and integrated systems helps industries work smarter by securely connecting processes, technologies and people for superior control.
From assessment, design and implementation support to long-term maintenance, Messung covers the entire lifecycle, assuring smart operations, enhanced productivity, reduced downtime and better efficiencies for plants and machines. No wonder Messung is the go-to partner for cutting-edge industrial automation & control solutions in India.