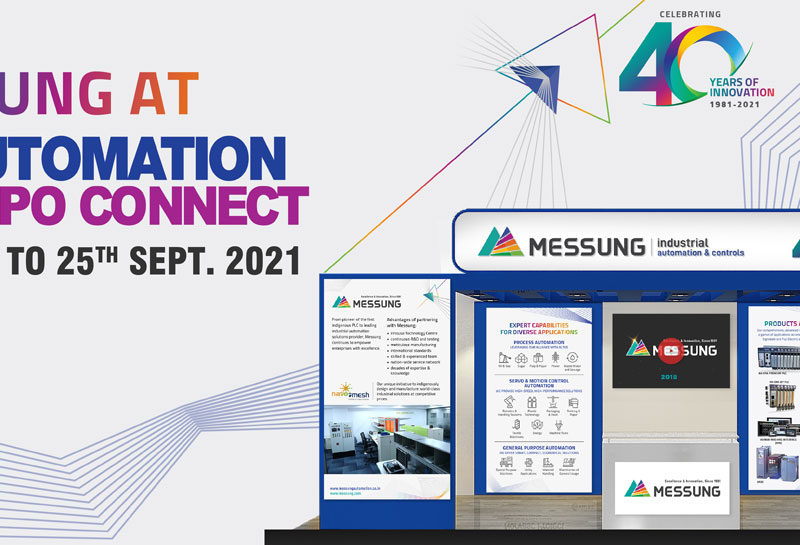 This year, given the global pandemic, Automation Expo is going virtual – creating waves as South East Asia's first virtual expo. Scheduled from 22nd to 25th September 2021, this online expo offers infinite opportunities to discover, network and grow business.
As India's leading PLC manufacturer, Messung is a regular exhibitor at Automation Expo, and this year is no different.
Messung's expertise in industrial automation is undeniable and proven over four long decades in the industry. Messung pioneered the first indigenous PLC in India in 1984, and since then, has stayed committed to developing world-class industrial automation solutions at cost-effective prices.
Under its 'Navonmesh – Make in India initiative', and with its own Technology Centre in Pune, Messung has continued to develop, manufacture and test advanced and complete automation systems for diverse applications.
MESSUNG PLCS FOR INDUSTRIAL AUTOMATION
On display for discussion at Automation Expo Connect will be Messung's NX-ERA range of innovative, high-performance programmable logic controllers. These PLCs, complemented by Messung's own XM-PRO Series of Remote I/O modules besides HMI and SCADA, enable best-in-class industrial automation & controls, for simple to complex industrial applications.
Messung's PLC range offers:
This is a powerful mini PLC (Programmable Logic Controller) developed by Messung, leading micro PLC manufacturer. A micro PLC with macro features, NX-ERA Xpress is creating waves in small, scalable applications. 
The embedded I/O PLC has been successfully commissioned in applications such as Dust analyser, Continuous furnace, Pressure testing, Hydraulic press, Robotic cell, Boiler automation, Battery management system and water purification system.
NX-ERA Xpress also enables enhanced performance and control in material handling controllers, energy management controllers, PID controllers and AHU controllers.
This advanced PLC system with redundancy is IEC 61131-3 compliant. It is able to control in a distributed and redundant way, complex industrial processes, high performance machines and production lines.
High availability, advanced diagnostics and hot swapping modules make NX-ERA Premium the perfect PLC automation system for non-stop applications. The Integrated Distributed Control Systems (DCS) features, programming and configuration environment based on IEC 61131-3 standard, help to speed up development and reduce engineering and commissioning costs.
NX-ERA Premium is ideal for Process Automation applications in industries such as Sugar, Oil & Gas, Pulp & Paper, Energy Management/Power and Water & Sewage Treatment. Some successful applications include Singeing machine and rope dyeing machines besides reconditioning projects.
This is Messung's high performance CPU for large and distributed systems as well as medium to small sized applications. It is an ideal, cost-effective for compact automation solutions with embedded I/O.
NX-ERA Jet has all the important features of the popular NX-ERA Series. It turns into a selection of input and output modules where requirements such as hot swapping and advanced functionalities such as OTD (One Touch Diagnostics) and EPS (Easy Plug System) are no longer necessary.
Recent applications include sulphuric acid plant, continuous furnace, and plywood forming & glueing process.
XM-PRO Series is indigenously designed and manufactured by Messung under its 'Navonmesh' Make in India initiative. The Series includes a wide range of Remote I/O modules which are CE marked and certified for usage in harsh industrial environments.
Remote I/O modules enable users to greatly increase the capacity of the automation solutions enabling connections via various protocols to electro mechanical actuators, sensors, VFDs and Servomotors, which are placed far away from the main control Cabinet. The XM-PRO range for CANopen and MODbus is expandable up to 128 I/O.
For industries, OEMs and automation system integrators, Messung is the expert automation partner with advanced, reliable and cost-effective products and solutions to power high performance on the shop floor. To find out more, do
connect with Messung
at their virtual stall at Automation Expo Connect 2021, from 22-25 September.