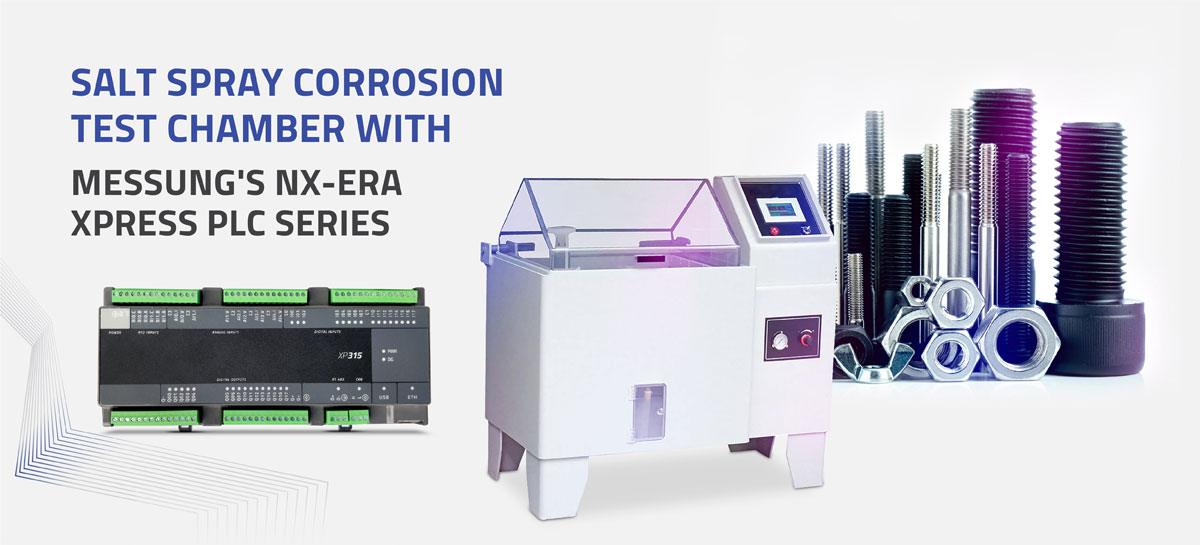 The salt spray (or salt fog) test is a standardized and frequently used corrosion test method, used to check the corrosion resistance of materials and surface coatings. Usually, the materials to be tested are metallic and finished with a surface coating that is intended to provide a degree of corrosion protection to the underlying metal.
Salt spray testing is an accelerated corrosion test that produces a corrosive attack on coated samples in order to evaluate the suitability of the coating for use as a protective finish. The appearance of products of corrosion (rust or other oxides) is evaluated after a predetermined period of time.
The testing apparatus is composed of a closed testing chamber, where a salt water (5% NaCl) solution is atomized by the means of a spray nozzle that uses pressurized air. This creates a corrosive environment of a dense fog of salt water in the chamber so that test samples exposed to this environment are subjected to extremely corrosive conditions.

Some constituents of the testing apparatus are:
Chamber heater – to evaporate water from a sump tank inside the testing cabinet
Humidifier heater – to heat water inside the humidifier tank to be sprayed in the chamber
Air solenoid valve – to bring compressed air through the humidifier tank inside the cabinet using a nozzle
Water solenoid valve – to fill water inside the humidifier tank
Demist solenoid valve – to bring outside air into the cabinet from a nozzle
Pump – for the proper mixture of salt and water present inside the salt water tank
Compressor – to release pressurized air inside the cabinet through demist and air solenoid valves
APPLICATIONS WHERE SALT SPRAY CORROSION TEST CHAMBER IS USED:
The majorly used testing device is the Salt Spray Chamber, which is used in metal industries to analyze the effect of corrosion on the metal products when they come in contact with the salty environment.
Salt Spray Test Chamber or Salt Fog Test Chambers are made for testing the corrosion-resistant properties of metal parts, zinc plated nuts and bolts, surface coating and paint.
Our customer specializes in the Manufacturing of Standard & Customized Salt Spray Chambers. These heavy-duty chambers are designed as per Industry Standards. Integrated with the latest technologies, these chambers provide reliable & efficient testing operations. They provide Water Spray, Dust Test, Hot & Cold Chambers and Humidity Chambers. They work closely with the customers, understand their requirements & provide them with the best service in the industry.
Messung is among the best PLC automation companies in India. Our engineers studied the plant and its requirements and came up with a solution consisting of
NX-ERA XPRESS XP315 PLC Controller
7 inch HMI Display Touch Screen
Programmable Logic Controllers (PLCs) have been used in various control systems in order to increase efficiency, reduce the initial investment and minimize the long-term maintenance costs.
The NX ERA EXPRESS machine brings the cutting edge user experience with an HMI touchscreen display with a feather-like touch. The screen – a plc automation control panel – allows the user to set test parameters, view test values during and after the test, and record test memories for future references. It allows the user to have overall control over the entire test program with just a touch.
THE HEART OF THE SYSTEM: NX-ERA XPRESS
NX-ERA Xpress is a powerful mini PLC (Programmable Logic Controller) developed by Messung – a leading micro PLC manufacturer. NX-ERA Xpress offers world-class technology at a cost-effective price for entry-level applications.
Loaded with advanced features, the NX-ERA Xpress micro PLC delivers high-speed processing power in a condensed design with embedded I/O. This micro PLC system can be easily expanded through the CANopen device using the Remote I/O Modules – a considerable advantage for OEMs with needs for small, scalable applications.
NX-ERA Xpress Highlights:
High-density I/O both Digital & Analog
Programming by Codesys® – IEC 61131 based software
Ethernet Port – TCP/IP, Modbus TCP/IP
Inbuilt Webserver
Industry 4.0 ready – OPC-UA, MQTT features
RS-485 port with Modbus RTU Master protocol
CANopen Master/Slave protocol
SCADA and HMI interfaces available
Built-in HTML web server
BENEFITS FOR THE CUSTOMER
The Latest Industry 4.0 enabled PLC System: Provides access to sensor-level data in difficult-to-reach areas. This helps ensure the smoother operation of system components while streamlining device replacement and machine maintenance – hence saving costs and enhancing efficiency.
Cloud connectivity
Conformal Coating: This coating ensures integrity even in harsh environments
Programming and configuration environment based on IEC 61131-3 standard: the global standard in plc programming for industrial automation.
Designed to meet the pertinent demands of Industry 4.0
With the help of automation technology, all systems are designed for un-attended operation and automatic adjustment
The design and instrumentation make the chamber very compact with assembly on skids and prefabricated supply from the factory
The feather-touch display screen works as an HMI for the setting of test parameters, viewing test values, recording test memory and more while bringing the latest generation user experience
PLC/HMI Safety Alarm facility for Low Water Level so that users can carry out uninterrupted tests
User-friendly experience with smooth chamber door operation due to automation
The Air Saturator Auto Refilling facility of this solution ensures an undisturbed testing procedure and reduces the need for manpower assistance
Over Temperature Alarm in HMI and buzzer ensuring user safety
Messung is amongst India's leading industrial automation companies and offers cutting-edge customized solutions for factory automation, process automation and special purpose machine automation. Messung is considered to be one of the top 10 PLC manufacturers and offers an expansive range of world-class Programmable Logic Controllers (PLCs), Remote I/O modules, Servo & Motion Control solutions and Human Machine Interfaces (HMIs) for a variety of applications across a range of industries.
Messung also offers a varied range of Variable Frequency Drives (VFDs) and Servo/Motion products from Fuji Electric that are effective for simple to complex industrial applications.
For more information, visit: www.messungautomation.co.in